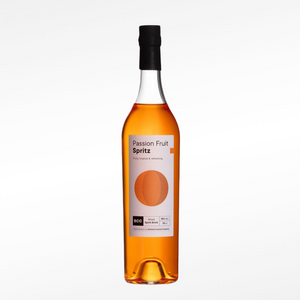 Vodka, Bitter Orange, Passion Fruit, Bergamot

Our take on the classic Spritz is the summer drink that is perfect all year round - featuring a combination of fresh and tropical passion fruit, bitter orange liquor and aromatic bergamot essence, this drink is designed to be stretched out with sparkling wine (although tonic water works deliciously too).

It opens up with the citrusy aroma of bergamot combined with exotic, sweet and slightly tart passion fruit, revealing layers of complexity from the aromatic botanicals and bitter orange at each sip. Simply perfect if you want to try something different from your usual aperitif Spritzes.

We reccomend to mix it with dry sparkling wine, altough rose champagne and tonic works perfectly too (we like equal parts) - and if you are not in the mood for bubbles, try to top it up with pineapple juice for a truly tropical bomb.