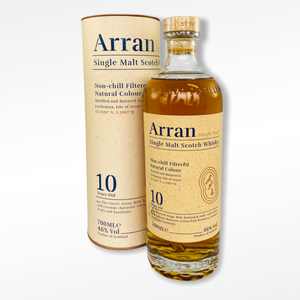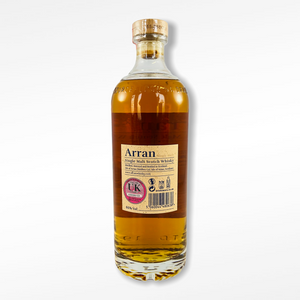 | | | | |
| --- | --- | --- | --- |
|  Scotland | Single Malt | 43% | 700ml |
The classic expression of Arran - a fresh and unique island style is captured beautifully in our 10 Year Old Single Malt. Colour: Ripe Golden BarleyAroma : The initial rush of rich vanilla sweetness gives way to the fruits of slow distillation - kiwi, banana, cantaloupe melon - with just a dusting of cocoa powder. It is undoubtedly complex and yet the aromas are in complete harmony with the malt. Palate: A touch of cinnamon adds a spicy edge to the soft and sweet texture which captivates the palate. The classic Arran citrus notes have rounded with age and reveal new depths of character against a background of sweet oak. Finish: It drifts over the tongue like golden syrup and fades ever so slowly to tempt another sip. This is a beautifully made whisky. Arran has come a long way in 10 years. Truly the best things in life are always worth waiting for!