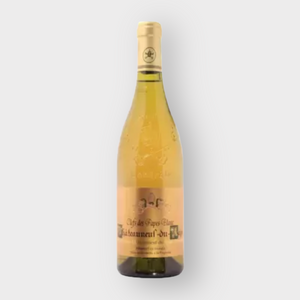 Chateauneuf du Pape Clefs Des Papes Blanc, 75cl
A single estate and fully matured Chateauneuf du Pape. Very low yields explains why these famous wines, produced mainly from Grenache grape age so beautifully. This wine is rich, full bodied and spicy with a lovely sweet mid-palate, and soft tannins to finish.

Pastel colour with bright and shiny reflections, this wine is complex and very aromatic with notes of white flowers and exotic fruits. On the mouth there is an attack of ample and a nice freshness. The finish is remarkable in length and elegance with some mineral notes.