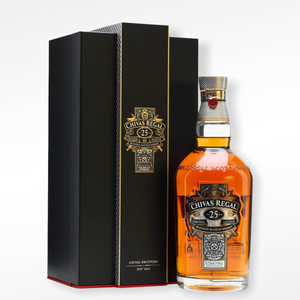 Chivas Regal 25 Year Old Blended Scotch Whisky
The Chivas 25 Year Old Scotch Whisky is a rare and exclusive blend of the finest Scotch whiskies, which have all been aged for a minimum of 25 years. Chivas Regal 25 Year Old was the world's first luxury whisky that was launched in 1909 and is available only as a strictly limited release in individually numbered bottles. The colour of this premium scotch whisky is rich in a golden hue, on the nose this whisky that has been aged for 25 years has an enticing fruity aroma of sweet orange and peach that is followed by subtle notes of marzipan and nuts. The extended period of time provides added complexity to flavour and taste, with hints of rich chocolate orange and reminiscent of the creaminess of fondant, and is completed with a smooth, rounded and long finish.
Chivas, the original luxury blended scotch whisky, brings together the best malt and grain whiskies. Each component of malt, grain and whisky is special and unique, and when blended together they create something extraordinary. Every Chivas Regal scotch whisky has its own unique formula and undergoes a careful selection of many aged whiskies, giving them their own distinct character, flavour and taste experience. Chivas' belief in blending was instilled by founding brothers, James and John Chivas, who pioneered the art of blending in 19th century Scotland. Chivas believes that blended is better, in life and in Scotch.