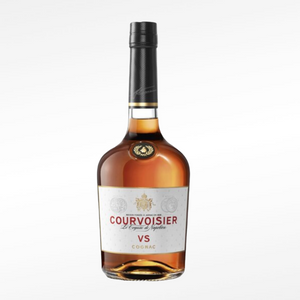 Courvoisier VS Cognac Brandy
This VS Courvoisier Coganac is distilled from the finest grapes from the Fins Bois and Petite Champagne crus of Cognac, matured in hand picked oak casks and blended by master blender Patrice Pinet. This cognac is matured for between three and seven years in hand selected oak casks. The fusion of younger and older cognacs gives Courvoisier VS a fruity, delicate taste and a bouquet filled with ripe fruit and spring flowers.
Ripe fruits: The chalky soil in Fins Bois delivers a hint of ripened fruits that is its signature aroma.
Spring Flowers: Inhale deeply for the bouquet of spring flowers, which is a hallmark of grapes harvested at their peak from the Fins Bois crus.
Fresh Oakiness: The rich, fresh oak bouquet is controlled throughout the ageing process to make sure it doesn't dominate the young cognac.