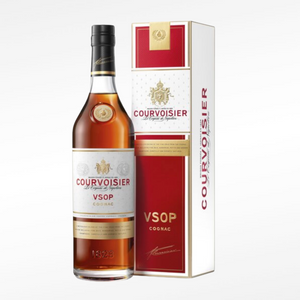 Courvoisier VSOP Fine Cognac Brandy
This VSOP Courvoisier Cognac is distilled from the finest grapes from the Grande Champagne and Petite Champagne with some Fins Bois crus of Cognac, matured in hand picked oak casks and blended by master blender Patrice Pinet. This cognac is matured for much longer than the VS in hand selected oak casks. This skillfully crafted cognac is a blend of several crus with a perfect balance between Fins Bois, Grande and Petite Champagnes at the peak of their aromatic potential.
Peach: When the cognac is distilled and aged, it begins to conjure the soft, luscious aroma of ripe peach.
Toasted almonds: After several years in our French fine-grained oak barrels, the spirit develops nutty notes and ages to produce a sweet, caramelized flavor resembling that of toasted almonds.
Jasmine: The distillation on the lees is a complex and meticulous process but it gives fruity and musk notes, evoking jasmine aroma.