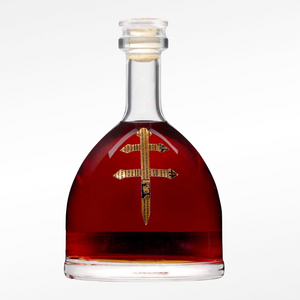 D'USSÉ VSOP Cognac is a cool and confident character. With a bright floral bouquet, rich woody undertones, notes of almond, cinnamon, and sweet honey accents, this is a truly modern and magnificent expression of cognac.

D'USSÉ VSOP Cognac is distinctly bold yet remarkably smooth.

Made from a selection of the finest eaux-de-vie, including some that were carefully matured in the cellars of the Chateau de Cognac in France, this spirit has been naturally aged for a minimum of four and a half years to reveal a bold new expression of cognac.

On the nose it reveals a powerful bouquet of bright floral notes with rich woody undertones and touches of creamy almond and cinnamon, completed by the subtle accents of honey and sweet dried fruits.

D'USSÉ VSOP Cognac is cool, confident, and nothing short of excellence.

Perfect serve: Refresh your senses with D'USSE VSOP Cognac's Freedom of Peach punch. Add equal parts of cognac, peach syrup, cold-infused green tea and champagne into a punch bowl of ice. Finish with a few squeezes of lemon and top with peach slices and mint. No one's going to forget this party.