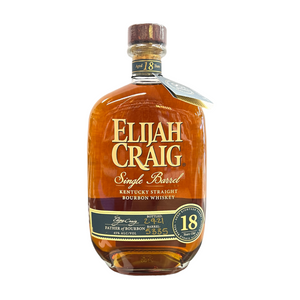 Elijah Craig 18 Year Old Single Barrel Bourbon
Bottled: 02/09/21   
Batch : 5335
Elijah Craig 18-year-old Single Barrel Bourbon, the oldest Single Barrel Bourbon available in the world, is bottled soley from one barrel hand-selected by Master Distiller Parker Beam.

Only a handful of the millions of barrels of Bourbon aging in Kentucky have been allowed to mature this long. The brand is named for Rev. Elijah Craig, the man who discovered the method of making true Kentucky Bourbon when he stored his wares in barrels that had been charred by fire.
Bon Appetit magazine describes this Single Barrel as "rich and complex, a whiskey suggestive of a fine Cognac."

Dave Broom, Handbook of Whisky writes, "Almost heathery nose, with some saddle soap/leather and rich nuttiness. Soft, rich fruit on the palate and a balancing spicy pepperiness. Excellent. A rating of five stars."