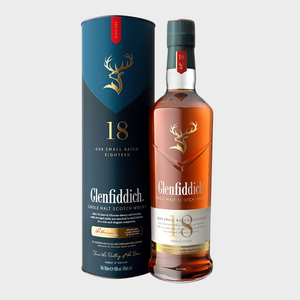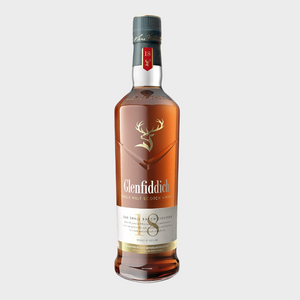 Glenfiddich 18 Year Old Single Malt Scotch Whisky with Gift Box – 70cl
Glenfiddich use fine Spanish Oloroso wood and American oak to mature this rich, intriguingly fruity and robust oak expression, but there are many more reasons why this expression is special. Every batch is individually numbered and carefully watched over. Each has extraordinary consistency and character from an intense marrying period, and a warming, distinguished finish. A truly exceptional single malt, the result not just of eighteen years of care and attention, but of whisky-making craft and knowledge passed down through the generations. This whisky is winner of the two awards as Gold Medal 2013 - International Spirits Challenge (ISC) and Silver Outstanding Medal 2012 - International Wine and Spirit Competition (IWSC). It has warming, rewarding and distinguished finished. It contains 40% alcohol by volume.

Directions
Savour it neat, on ice, with a mixer or in a cocktail.