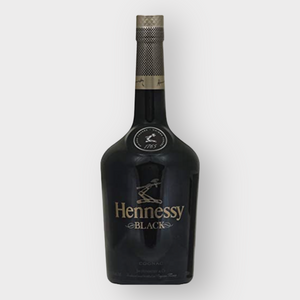 A smooth, sleek and sophisticated cognac with a midnight black bottle to match, Hennessy Black Cognac wants you to come and play in the dark. With oaky undertones and a bouquet of jasmine, orange flower and sweet honey, this is a seductive cognac strictly for after hours.

As Hennessy's first major launch since the original was first introduced in 1961, Hennessy Black Cognac has been created for those willing to explore the new and unknown.

Distinctly smooth and highly versatile, this decidedly different cognac is a blend of 35–45 unique pale and gold-coloured eaux de vie, aged in French Limousin oak casks for a more gentle maturation and a fresh, light and floral flavour.

On the nose you'll find the scent of jasmine, daffodils and orange flowers, softly infused with notes of citrus and honey, which are rounded out with warm woody undertones and finished with elegant floral highs.

This is a sleek and stylish cognac with a bottle to match. Come and play in the dark.