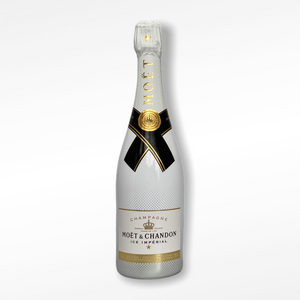 Moët & Chandon Ice Impérial
Ice Impérial, the first and only champagne especially created to be enjoyed over ice. A new champagne experience combining fun, fresh and free sensations while remaining true to the Moët & Chandon style, a style distinguished by its bright fruitiness, its seductive palate and its elegant maturity.
BLEND
The profiles of the wines used in the assemblage have been meticulously selected for the specific contribution made by each one:
MAINLY PINOT NOIR
40-50% winey and angular, for its intense fruitiness as well as for its structure, which integrates the dosage
PINOT MEUNIER
30-40% full and fleshy, for a rich, melting sensation on the mid-palate.
CHARDONNAY
10-20% for a refreshing finish
20 to 30% specially selected reserve wines enhance the assemblage to complete its intensity, richness and constancy.
Dosage : 45 g/liter
Contains sulphites
TASTING NOTES
A dense colour
Deep gold

With amber highlights
An intense, fruity bouquet
The powerful aroma of tropical fruits (mango, guava)

The sumptuousness of stonefruits (nectarine)

An original note of raspberry
A GENEROUS PALATE COMBINING ROUNDNESS AND FRESHNESS
The broad, fleshy, voluptuous flavour of a fresh fruit salad
The captivating sweetness of caramel and quince jelly
The refreshing acidity of grapefruit and ginger notes