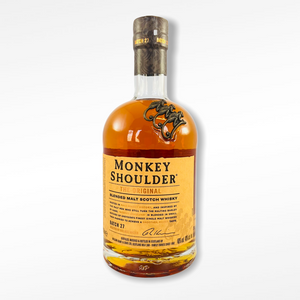 Monkey Shoulder Blended Malt Whisky
| | | | |
| --- | --- | --- | --- |
|  Scotland | Blended Malt | 40% | 700ml |
Monkey Shoulder uses only malt Scotch whisky from three of Speyside's finest distilleries. This triple malt is catching the attention of the country's leading bartenders for its smooth and rich qualities, making it ideal for mixing as well as drinking in the more traditional way. As Charlotte Voisey, of London's Apartment 195 explains, 'the attractive name and bottle spark curiosity, and once explained, bring a smile to your face.'

Rooted in malt whisky lore, Monkey Shoulder is inspired by and named in honour of the malt men at William Grant, who are among the few still to turn the malting barley by hand using a sheil (wooden shovel). Monkey Shoulder was a nickname given to a temporary injury some malt men occasionally suffered many years ago as a result of repeatedly bending over whilst turning the malt. Thankfully, working practices have now changed and the condition no longer exists.

Crafted in small batches of just 27 casks, Monkey Shoulder's smooth and and rounded taste has accents of malty sweetness, vanilla, marmalade and barley sugar. The iconic bottle design, complete with three brass monkeys - each representing one of the constituent single malts - on the bottle's shoulder, is sure to attract confident, liberal minded people with discerning taste and ensures it's not one to hide away in the drinks cabinet!