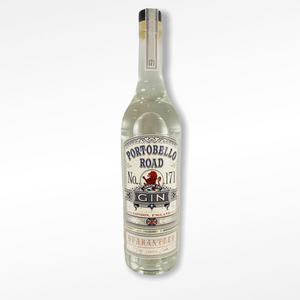 Portobello Road No. 171 Gin
This bottle of Portobello Road Gin 171 was created by the award-winning licensed victualers of the Ginstitute Messrs. Gerard Feltham, Jake F Burger and Paul Andrew Lane. Each individually numbered bottle bearing a triptych of their unique signatures. Every drop of Portobello Road Gin is distilled under the watchful eye of eight-generation gin distiller Mr Charles Maxwell.
The recipe calls for a blend of nine completey natural botanicals and eschews the contemporary trend for ever more esoteric ingredients, instead saluting London's distillers of the past. A classic botanical selection, with cassia bark and nutmeg concomitant, contrives a timeless London Dry Gin with a depth of flavour and character to suit all occasions and libations.