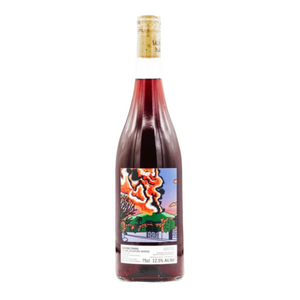 SALVATORE MARINO, VULCANO CHIARO 2020
| | | | |
| --- | --- | --- | --- |
|  Italy | 12.5% | 750ml | Natural |
Here we have a collaboration between Illustrator Gaurab Thakali, and Winemaker Turi Marino, A project including 3 wines, with incredible labels and a true representation of Mount Etna's volcanic and mineral-rich terroirs.
The Vulcano Chiaro is an even lighter red than the other in the trio and at 12.5% is a dangerous one to have in the wine fridge. Smooth, elegant, and with lovely soft red berry notes this one is a must try!
Turi Marino is a Pachino, Sicily-based winemaker with a traditional touch. Focusing largely on local varieties, with a commitment to the region's soil and the balance of nature. From five generations of winemakers, Turi has always known the phrase "wine is made in the vineyard" and this is an ethos he carries with him to this day. His vines are planted as freestanding bushes and are only cared for and cultivated using the most natural methods. Salvatore adopts a non-interventionist approach in the cellar, crafting artisanal wines with plenty of character.